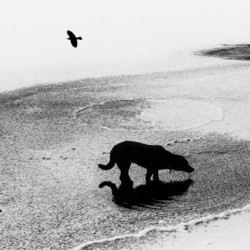 alessandro crimi – changements
The German net.label Broque has an new release out by non the less than alessandro crimi with the e.p. changements. Broque focuses on releasing electronic music that you can dance to and some experimental stuff from the community of "Oder auf Brot".Besides mp3 Broque have some releases on vinyl and cd.
Alessandro brings you an ep that's both calming and soothing, minimalistic beeps and groove. The e.p welcomes you with the first track "Selun". Running at the extreme low speed 120 bpm the first thing you get to know is the thumbing drum that sounds a bit quern, and then after a few bars of welcoming hats and delays, and a bas smoothing driving over 4/4 time signature. The main event of the entire track is reverberant ambient gently seeping over its main core, welcomed on my part.
Second track out "Machines" feels slightly faster (still 120bpm) due to its more driven bas, this time over 2/4 signature and thereby lends its self more to the club side. This track is a dub track with those distinctive dub sounds.
Third up is "Ty" a house track that also gives you an faster feeling (still 120) but this time due to the faster sounding hats.
forth track "Kids" is an distinctive minimal track with these clave´s representing the groove, however still keeping it real with those ambient reverberation. One of my favourite tracks on this e.p due to the vary nature of the sound. This track will becoming up on my February releases liveact, so keep an ear out for this one!
Final track alaska is a more experimental track giving you some of that triphop beats. An good track however not for your dancefloor. Making that notion, that's all being written about it.
alessandro crimi and his e.p changements is all in all a good release that you should get your hands on. Interesting note that different time signature and composing can make tunes appear faster and slower.
Download
mp3
* I experienced some problem while use with tractor and had to re-code the tunes as native instrument tractor was not able to play them.